If you have questions just call Nicci or Jonny on +44(0)7514324455, email stays@crayfishcottage.uk or use the enquiry form at the bottom of the page.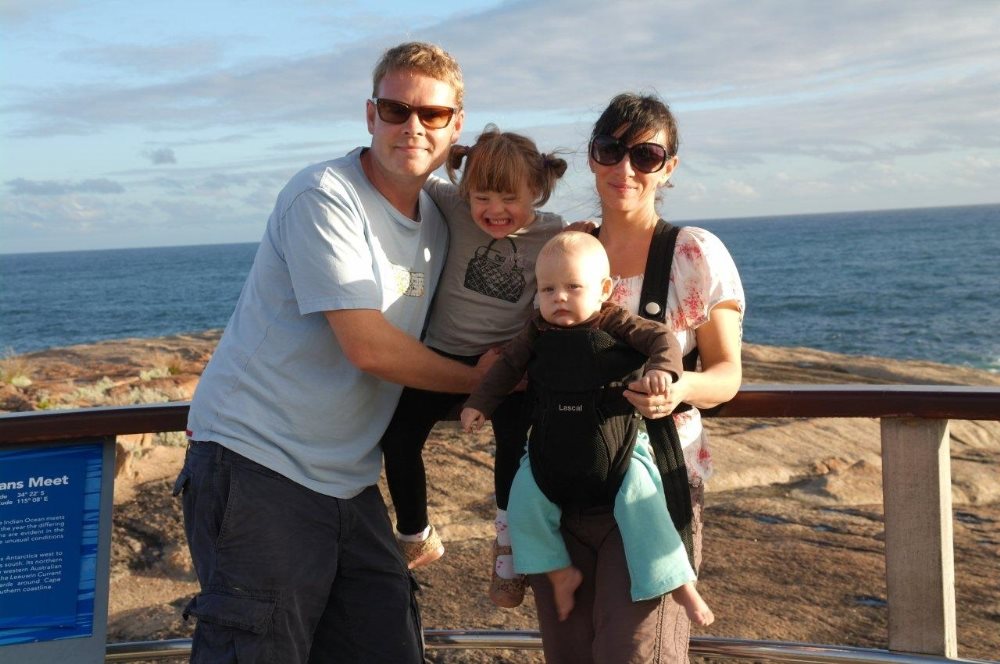 Hello! We're the Millar family and we own and run Crayfish Cottage and its sister - Copperpot Cottage.  Jonny, Anna, Nicci and Jemima (in the pouch).
Here are answers to a few questions you might have about a stay at Crayfish Cottage, as well as booking and payment information and terms and conditions.
Are pets welcome?
As much as we love them, we are a pet-free holiday cottage.  Sorry.
Can we smoke in the property?
We operate a no-smoking policy at the property.  No smoking or vaping anywhere within the property or outside in the grounds.
What about TV/movies at the cottage?
You can watch terrestrial TV (including HD channels) and Freeview channels which includes radio.  If you have an Amazon Prime account, register it on the TV to access SmartTV features including Prime Video, Netflix and more.  Please remember to de-register your account before departure (we cannot be responsible for de-registering any accounts you set up on the tv which future guests could inadvertently access).
There is also a DVD player and a selection of free family movies available.
I have limited mobility (I can walk a short distance but cannot manage flights of stairs) – is the property suitable for me?
Yes, Crayfish Cottage would be suitable for guests with limited mobility who are comfortable with a short walk from the driveway, up a step and in the front door. Two bedrooms and the family bathrooms are on the ground floor.  The family bathroom has a walk in shower as well as a separate bath tub.  
Sincere apologies - the property isn't suitable for wheelchair users.
Is the property suitable for children?
The twin bedroom upstairs would be ideal for children.  The kitchen is equipped with unbreakable plastic beakers, plates and cutlery.  There are board games and DVDs suitable for the whole family.  Plus, we can provide much of the kit and caboodle needed for travelling with babies and young children – cot, high chair, toys - just ask. The garden areas are enclosed with a low gate at the front of the property.  We have designed the property with the safety of all our guests in mind, but the property isn't child-proofed and children would always need adult supervision.
Are there any limitations on numbers of guests/activities at the cottage?
Guests must be over 25 years of age to book the cottage.  No parties/events/additional overnight guests.  We can accept family groups of up to 6 people, including chidren.  We cannot accept groups of 5 or more adult friends.  
Please be considerate towards our neighbours (particularly noise and parking).
Will there be provisions at the house?
Yes, you will find fresh milk and bread, tea, coffee, sugar, salt and pepper, paper goods and some cleaning products there.  We also operate a "pot luck larder" so you can use groceries brought by previous guests.  If you happen to finish the marmalade keep the system going by replenishing that item for the next guests.
What about bed linen, towels and tea towels?  Pots, pans etc?
These are all at the cottage and included in the price.  The kitchen is fully equipped to meet and exceed NITB requirements.  
What about laundry?
There is a separate drying room with a washing machine, a tumble dryer and iron/ironing board.
I'm a golfer/angler/hiker/surfer ... is there somewhere to hang kit and store bulky equipment?
Yes, the drying room offers plenty of storage space with hooks and a rack for drying equipment and clothing.  Plus there is a sink,washing machine and separate tumble dryer.
Where is the nearest place to buy provisions?
Portrush town centre is less than a mile up the road.  There is a LIDL and a Eurospar a short walk from Crayfish Cottage selling milk, bread and other provisions plus logs and fuel.  It is open 7 days a week from 7am until midnight.  There is also an Ulster Bank ATM.
Is there mobile phone coverage at the house? How about internet access?
Yes and yes.  There is free WiFi at the property, with access instructions.
 Will there be someone to meet us at the property?
Yes. We'll be at the cottage to greet you, show you around the property and leave you the keys.  Arrival is 4pm onwards during the Summer months, departure is any time before 10am.  There might be some flexibility, depending on our next booking - feel free to ask.
How do I make a booking?  What about payment?
Call us on +44(0)7514324455 or use the enquiry form to agree arrival and departure dates.  We will hold those dates in your name for a few days.
As soon as we receive your deposit - 30% of the total - those dates are confirmed as yours.
The balance of 70% is due 28 days before your stay.  We will remind you when payment is due.
Important:  If the balance is not received 25 days before your stay, the 30% deposit may be forfeited.
We accept payment by bank transfer, cheque or Paypal.
Do we need to pay a damage deposit?  How does it work?
Yes, we ask for £100 damage deposit paid by cheque on arrival, which is destroyed immediately after your stay. We don't mind about the odd broken plate or scuffed wall; that is fair wear and tear.  Besides, we want you to relax and enjoy the cottage.  The deposit would only be kept by us if something substantial was damaged, such as replacing a broken window or if we had to deep clean the cottage, if someone were to bring in pets or smoke on the premises, which we ask guests not to do. 
After your stay, we will be in contact to confirm that your cheque has been destroyed.
Are there any hidden costs?
No. Utilities are included in the price.  The damage deposit is refundable (subject to the terms above).
What about cancellations?
If you want to, or have to, cancel your booking, please phone us as soon as possible. The day we receive your notice is the date on which your booking will be cancelled.  Cancellation charges are as follows:
Cancellation notice of 29 days or more = no charge
Cancellation notice of 15-28 days = 50% cancellation charge
Cancellation notice of 0-14 days = 100% cancellation charge